Daniel Zenaty - Founder and CEO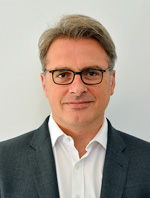 Between 2007 et 2009, Daniel assumed the position of "Chief Restructuring Officer" and CFO at OTTO Industries Europe BV (EUR 300 million in sales, 950 employees, and operating in 17 countries), European leader in the manufacture and distribution of waste containers for the public and private sectors.
In 1999, and for 11 years Daniel established, structured, developed, and organised the Compagnie Financière OTTO, a Single Family Office dedicated to the Otto family, with teams located in Paris, Luxembourg, Rio de Janeiro (Brazil) and Singapore, advising and overseeeing the management of more than USD 600 million in assets.
Between 1991 and 1998, Daniel was Managing Director Coporate Finance / M&A at Financière Galliera (Paris, France), and co-Manager of Galliera Investissements (Crédit Lyonnais Group), a EUR 35 million private equity fund.

Daniel graduated from the European Federation of Financial Analysts Society (C.F.A. equivalent) and holds a MA in Banking and Finance, a BSc in Econometrics and a BA in Accounting and Management (University of Paris).
info@avire-finance.com
Tél: +33 1 73 79 58 18